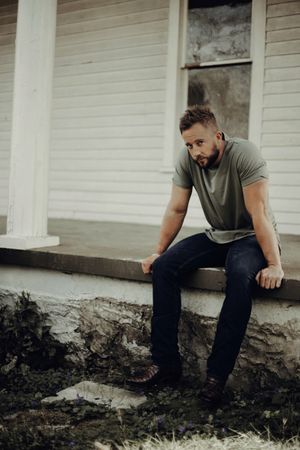 Thomas Fountain
Thomas Fountain was born and raised in the mountains of North Georgia and that way of life is reflected in his songs.   The music that has influenced him as a singer/songwriter is well rooted in the past. However, he has taken that vintage edge and blended it with a distinct modern sound to make what he refers to as, "Solid Mountain Country".  His classy look, smooth vocals, and genuine style is what gravitate people, pull them in, and make them fans for life.  Thomas' fans are treated like friends and family and he wants to make sure every one of them enjoy the ride.  His first single "FLOAT" from the debut self-titled EP, was played in rotation on various terrestrial and digital radio outlets across America.
Thomas is fresh off the release of his 2nd EP titled "Mountain Climber", and was featured on NBC's lifestyle show, Atlanta and Company and Today In Nashville to support the EP.  Singles like "Break My Heart", "Mountain Climber", and "Window Pane" show the versatility of Thomas as a songwriter.  All three singles garnered massive amounts of media within the industry and saw play on large market stations 94.9 The Bull,  New Country 101.5, and 96.5 The Bull, all Iheart stations.  The music video for his upbeat and fun sing along single "It Don't Matter" released in 2021, premiered on CMT.com.  Being a Georgia native, Thomas is consistently selling out shows in the Atlanta area and his fan base is quickly expanding around the southeast and beyond.  
Thomas has shared the stage with acts like Chris Stapleton, Charlie Daniels, Travis Tritt, Trace Adkins, Kellie Pickler, LoCash, Brett Young, and Riley Green to name a few.  He is putting his own mark on the country music world doing things the only way he knows how, with honesty.  Fountain says "I want my songs and lyrics to make people feel something.  Not just now but years from now".  It seems to be working as Thomas' fan base continues to grow rapidly.  It's only a matter of time before everyone knows who Thomas Fountain is.